Dipping:
The metal part to be coated is dipped in a fluidised tank filled with Rilsan® after being heated at 275o-300oC, for between 3 and 5 seconds. With this process an even coating from 250 to 500 μm, all along the piece, is achieved. It allows an easy coating of corners and intersections.
Depending on the support and dimensions of the part, the oven temperature must be set between 280 o and 400 oC.
It is possible to make partial coatings by masking or protecting the parts not to be coated.

Recommended references: Rilsan® T.
Process: degreasing, grit blasting, printing, heating, dipping and cooling – through air or by dipping.
Spraying:
Rilsan® particles are electricaly charged and are attracted to the metal part. Later, the part goes into the oven -210 to 220oC- where the melting takesplace.
This process can be repeated several times and for several layers. A thickness between 100 to 180 μm can be achieved.

Recommended grades: Rilsan® ES for positive or tribo systems, and ESY for negative systems.
Process: degreasing, grit blasting, priming, spraying, heating at the oven and cooling – trough air or by dipping.

Minicoat/maxicoat:
Similar to the dip-coating process, the metal parts are heated previously and thrown into a vibrating bowl where they meet the Rilsan® powder. The vibration movement of this bowl produces a complete and even coating of the parts.
This process is ideal for small and medium size pieces – from 1 to 15 cm- with no handling, and highly automated, with a great productivity, and with no hanging points.
Minicoat/maxicoat leads to a rough finishing of the coating that can be smoothed down by heating.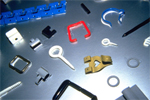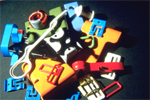 Recommended grades: Rilsan® M.
Process: heating, dipping, final melting, smoothing- if required.
Spraying onto hot substrate or flame spraying:
Parts of big dimensions, which could not be coated by the former procedures, can be coated by this process, as pumps, valves, and rollers. The part has to be heated to a minimum temperature – from 250 to 280 oC – and then spraying Rilsan® onto it with a powder blowing gun – or an electrostatic one without charge- to melt down at the contact.
It can also be done with a flame spray-gun, wich sprays and heats the metal surface at the same time. This last process is appropriate for in-situ coatings.
Recommended grades: T, ES and ESY.
Process: preparation of the metal part, priming, heating, spraying and cooling.
Rotocoating:
This method is applied for the internal coating of hollow objects and containers for corrosive stuffs, as water heaters, extinguishers, water accumulators, etc.
Once the object has been prepared and heated, it is filled with an excess of Rilsan®. Then the container is made to spin while the spinning axis is swung to the vertical position so that the Rilsan® excess falls down through the bottom opening.
Recommended grades: Rilsan® T and ES.
Process: preparation, priming, heating, filling of Rilsan®, rotating, excess rejection, cooling.
Quality control
The proper application and the properties of the Rilsan® coating can be checked with norm EN10310.