Orgasol® is a range of polyamide powders developed by Arkema that brings unique advantages to the performance of paints and coatings, composites, adhesives, powder metallurgy / metal injection moulding, polishing, cosmetics.
Orgasol® range is made by direct polymerisation of lauryllactame –PA12-, caprolactame –PA6- and its combination –copolyamide PA 6/12. Therefore, they have the chemical features common to these nylon, so it is, high stability and outdoor resistance. The more remarkable differences between them are the hydroscopicity, higher for polyamide 6- and melting points –from 140o to 217oC.
The unique syntesis process of the Orgasol® brings a spherical morphology to all the grades, different to other powder polyamides obtained by grinding. Besides, Orgasol® grades have a very narrow particle size distribution, thus a high efficiency as we only add particules with the right size.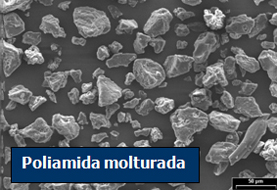 Particle size distribution of Orgasol® compared to a grinded nylon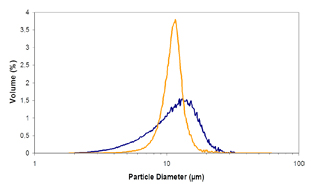 The average particle size of Orgasol® range goes from 5 to 60 μm.
Other properties of the polyamides Orgasol® are their porosity, from 1 to 20 m2/g. This feature allows Orgasol® to encapsulate inside different substances as active ingredients, reactants, perfume, vitamines, insecticide, protecting them and allowing a continuous release at the desired place and moment.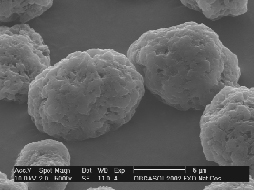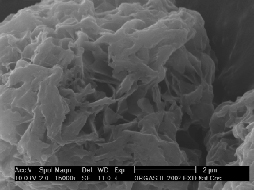 Orgasol 2002 EXD Nat Cos