Automotive and transport:
In addition to the corrosion resistance of Rilsan®, other interesting features are easy sliding, reduction of both vibrations and noise, total coating and protection of edges, oil and lubricant resistance, wear and mechanical resistance. Rilsan® allows a final machining process of the coating to adjust to established dimensions, with high accuracy, if required by some applications – steering columns and spline shafts, etc.
Spline shafts.


Sliding door rails.
Springs.

Rails for seats.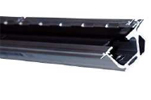 Seat structures.
Steering columns.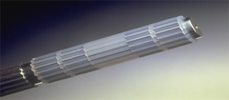 Handrails for bus and wagons.


Hood prop rod.
Opening systems and seat belt parts.
Gearbox parts.
Pipes, roof racks.



Water and fittings:
Rilsan® has been used since 1967 in water treatment plants, fittings for water and piping. Besides its oustanding features against corrosion by water, either drinkable, waste water, or sea water, Rilsan® is resistant to the most employed treatments and chemical stuffs in the whole water cycle.
Rilsan® has a great resistance to wear and cavitation erosion, even higher than some stainless steels and thermosettings.
It is remarkable that Rilsan® can be a cheaper alternative and more reliable than stainless steel and other alloys in desalination plants. It withstands high pressure working conditions up to 80 bars and more, instant depressurization, temperatures up to 80ºC, and high salt concentration.
PDF. Rilsan Agua | PDF. Rilsan Water Results
Rilsan® has obtained several international certifications for drinkable water as Kiwa, WRAS, DWI, KTW, W270, ATA, NSF61, RD 140/2003, AS4020.
PDF. Rilsan WRAS | PDF. Rilsan DVGW W270 | PDF. Rilsan RD 140/2003 | PDF. Rilsan ACS France
Pumps, clack valves, butterfly valves, joints, flanges, tubes, filters, for desalination -desalination plants, brackish water-,water potabilization, waste water plants, and wells.


Outdoor furniture:
Rilsan® brings a high impact and abrasion resistance, thus it is more reliable for corrosive environments as seafronts and beaches, and industrial environments. Rilsan® withstands UV exposure.
Streetlights, benches, light posts, bins, handrails, bycicle racks, markers.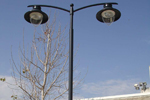 Printing rollers:
Besides both easy coating process and resistance to wear and abrasion, Rilsan® allows a final machining and polishing step.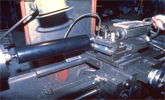 Wire goods:
Rilsan® joints two advantages for wire applications: flexibility to stand the bending of the coated structure, and the coating process by dipping, making and even and total coating on the intersections thus reducing corrosion issues.
Dishwasher baskets.

Market trolleys.


Shelves for fridges.
Food industry: hoppers, shelves, machinery, packaging tools, filtration agent.
Medical devices: beds, helps, hospital furniture.

Except for limited cases as determined by its Medical Device Policy, Arkema strictly prohibits the use of any Arkema products in Medical Device applications that are implanted in the body or in contact with bodily fluids or tissues for greater than 30 days.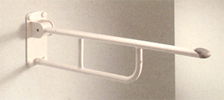 Textile industry: undergarment – minicoat.

Small parts: screws and bolts -autoblocking-, springs.

Paint additive: texture and multicolor effect, improvement of scratch and abrasion resistance.